MAHS has been featured on: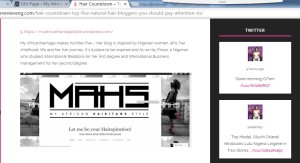 Bella Naija – In 2012, I  was invited for the ARISE Magazine Fashion Week 2012 (AMFW) as advertised on CNN to be the Fashion Representative for the Funlayo Deri Brand (little did I know that I was already living the MAHS lifestyle by just always wanting to assist and enjoy my passion). Bella Naija featured us and Funlayo Deri on one of those days we were off to complete chores in preparation for the runway. It must have been their street style post and I saved the picture. Fast forward May 2014, a typical day visiting Bella Naija for 'small gist' only to see us featured in their post on Klassy Kinks: 17 More Amazing Nigerian Natural Hair Bloggers You Need to Follow Thank you BN!

• African Naturalistas – At MAHS we take pride in the quality of resources we produce to provide hair care information. We were honoured when one of our highly recommended posts 'Lesson 4 – How I Grew My Hair' including the flow chart diagram was featured on African Naturalistas by Berry Dakara.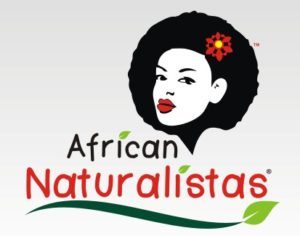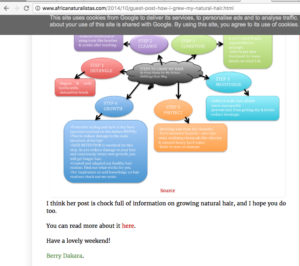 The Kink and I Blog – I had been asked to answer questions on my journey and to give people some insight into me. At that time I was really only blogging mainly for close friends and family nothing more. It definitely gave me high regard for Ab and MeeMee (the bloggers behind Kink & I) to showcase hair inspirations for the benefit of their readers. Well done! Here's the post Hairspiration! : Preye We have also been referred to in their Havana Twist Post based on our protective style post.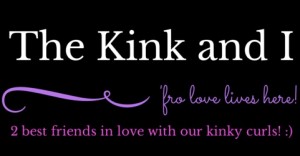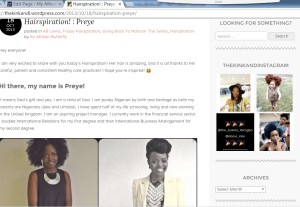 Festival of Life Magazine UK (The Redeemed Christian Church of God) – We are proud to have Authored Two Articles on Hair & Style for the Magazine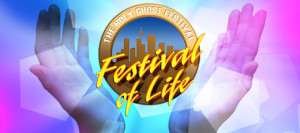 My Fashion S/ash Life Blog – I have geniune love for Biki! You know how you have some friends you have never met nor even communicate with regularly but you just know you are buddies. Well, Biki the blogger and stylist behind this blog would equate to my unknown blog sister. I intend to take that unknown to the known! I have great respect for you. I literally was checking my stats in May 2013 when I saw a referred link to my site from hers and found the 2 Fabulous African/African-inspired Blogs I Am Currently Following…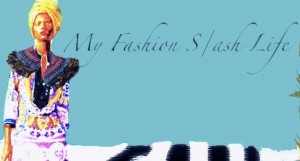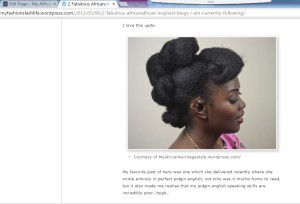 360 Nobs –  Mrs Temitope Sagoh AKA Tiana is the second individual to feature MAHS! She has a special place in my heart. In April 2013, she was a contributor on 360 Nobs and she decided to do a comparison of my Natural Hair straightened versus my Brazilian weave and the competition was indeed tight. You can have a look for yourself on the post Nigerian Hair Vs Peruvian Hair: Which Is Getting More Of Your Attention?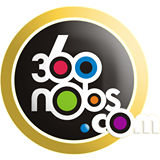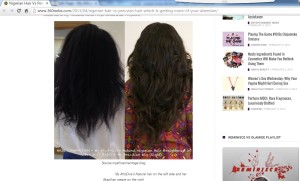 We know that we cannot exhaust all of MAHS print and media features but we are thankful. As we say a big thank you to every organisation and individual mentioned above (including those we are unable to mention here) for showcasing MAHS be it within the natural hair community, fashion arena or lifestyle, we will like to highlight that all the glory belongs to God and we are humbled!
[jetpack_subscription_form title="Keep Up with MAHS!" subscribe_text="Sign Up and receive email notification updates of All Things MAHS from free Giveaways to Promotions and Blog Posts!" subscribe_button="Sign Me Up"]
F O L L O W: MAHS Organisation LinkedIn Page and Weft2Wig LinkedIn Showcase Page